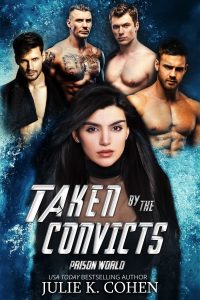 Publication Information
Book Title: Taken by the Convicts
Series: Prison World: Veenith
Book: 1 of 2
Publisher: Julie K. Cohen
Publication Date:  Oct. 2020
Length: 368 pages
Taken by the Convicts
Prison World: Veenith, book 1 of 2
Reverse Harem Sci Fi Romance
---
They all want her. Only four will succeed.
They say being convicted to the prison planet of Veenith is a life sentence.
Melina Archer would argue that point.
Granted, she's stuck there for the rest of her life,
With hundreds of rapists and murderers.
But her ex can't touch her there.
No, the only ones who will be touching her
Are the four prisoners who've taken her.
The soldier who wants revenge against her,
The mute bodyguard who kills with no remorse,
The con man who sees her as the ultimate deal to line his pockets,
And the man who holds almost as many secrets as the prison planet.
She doesn't know these men, but she needs them.
And they need her, more than they realize.
* * *
Taken by the Convicts is a steamy reverse harem romance set on a prison planet.  Melina's story concludes with Rescued by the Convicts.