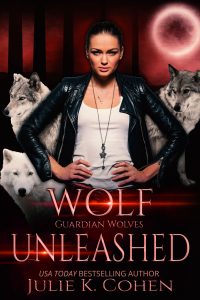 Publication Information
Book Title: Wolf Unleashed
Series: Guardian Wolves
Book: 3
Publisher: Julie K. Cohen
Publication Date: May 2022
Wolf Unleashed
Guardian Wolves, book 3 of 3
Reverse Harem Paranormal Romance
---
Secrets have a nasty way of coming back to life... as do shifters.
Maddox is missing, the alphas of three packs don't want a human in their midst, and Alyssa's more convinced than ever that she's part shifter... except she has no proof.  Nothing about her is shifter.
Tell that to the WSSO which has developed a special interest in Alyssa and her three loves.
Can Rafe's, Tiernan's, and Maddox's love for Alyssa be enough to save her from the demons of her past?
* * *
Ours to Protect. Ours to Love.
Wolf Unleashed is the third book in a steamy reverse harem shifter romance trilogy. The story began with Wolf Desired. The story involves three shifters (one bossy, one sweet, and one too devilish for anyone's good) and the female agent who has secrets that could destroy them all. Get ready for steam, action, and several twists along the way. Each book in the trilogy ends in a very Happy Ever After.