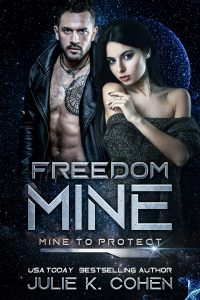 Publication Information
Book Title: Freedom Mine
Publisher: Julie K. Cohen
Publication Date:  May 2020
Freedom Mine
Mine to Protect
Sci Fi Romance
---
Kayo bought a female slave. . . and a world of trouble.
Kayo never expected to buy a female slave when he went to town.
Now, he needs to get through to her,
All while keeping her safe from the men working on his property.
Blue is the only light in his miserable life.
He feels alive again, for the first time since the war.
But he won't touch her. . . not while he owns her.
If he could buy Blue's freedom for her, he would, but he's broke.
The mine is dry and his creditors will soon take everything he owns. . .
Including Blue.
Kayo can't allow that.
No matter what it takes, he will protect her.
* * *
You can't have it all, can you?
Freedom Mine is a steamy sci-fi romance with an enemy to lovers theme, intrigue, mystery, lies, honor, sacrifice, and a very happy-ever-after.