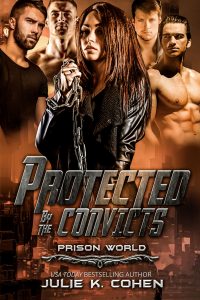 Publication Information
Book Title: Protected by the Convicts
Series: Prison World
Book: 2
Publisher: Julie K. Cohen
Publication Date:  Feb 2020
Length: 260 pages
Protected by the Convicts
Prison World, book 2 
Reverse Harem Sci Fi Romance
---
Claimed.  Protected. But far from safe. . .
Our Hannah saved each of us
By bringing us together,
By loving us.
We claimed her body.
Then she claimed our hearts.
We'll do anything to protect her.
Lie for her.
Steal for her.
Kill for her.
We're a family now.
But our happiness won't last.
The rules have changed.
She's determined to protect us.
Even if it means leaving us.
Our Hannah doesn't realize,
We won't let her go. . .
* * *
Protected by the Convicts is a steamy reverse harem romance with a enemies to lovers trope set in a galaxy where women are scarce and love scarcer. Hannah's story began in Auctioned to the Convicts.