Reading to Writing ... it's not a leap of faith
I grew up in a family of voracious readers. Each week, my brother and father returned from the library with stacks of books. I never understood the attraction they had to books. For the most part, everything I read bored me. I had not yet discovered the right books for me: Science Fiction. But when I finally did discover my genre, there was no turning back.
I co-authored my first SF&F novel while in high school. After graduating from college with a B.S. in Business & Economics and a minor in International Relations, I entered public accounting. Though I loved "playing" with numbers, accounting, on the whole, was, well... not 'entertaining' enough. I had always wanted to do something creative, so back to school, I went.
I received my MBA in finance and marketing. Surely marketing would satisfy the creative outlet I so desired, wouldn't it? But the "good" marketing jobs were scarce. My next few jobs centered around numbers – again. I became an investment research analyst, a director of administration for a manufacturer and then a financial analyst. All of my jobs were interesting and challenging, but none satisfied my creative itch.
My next major move was to the eCommerce department of a major financial institution. There, I developed my Web Design and Management skills. While this was a step in the right direction, the emptiness remained. It wasn't until I decided to become a stay-at-home mom that I began writing again. And I knew immediately... this is what I was meant to do.
Faces of Lebo article
I was interviewed by my local magazine regarding my writing career and upcoming debut novel, The Traitor's Touch.  Read the article here if you're like additional insight into how I got started.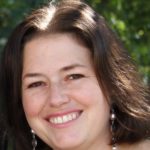 Julie K. Cohen
USA TODAY Best Selling Romance Author
Sci F | |Paranormal | Alien Romance
Yes, I'm a little off center here... Do you know how hard it is to get a good photo these days?
Tell me what you like
Let me know what you like, what you don't like... and what you'd like to see in the future. Your feedback will help me improve as an author.
If you have questions, fire away.  I love talking about writing, so whom better to talk with than my readers!