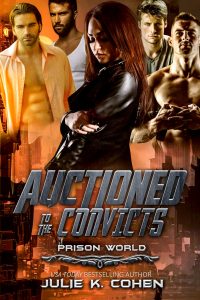 Publication Information
Book Title: Auctioned to the Convicts
Series: Prison World
Book: 2
Publisher: Julie K. Cohen
Publication Date:  Feb. 2020
Length: 350 pages
Auctioned to the Convicts
Prison World, book 2
Reverse Harem Sci Fi Romance
---
Each man wants her. Alone. Her survival depends on all of them, sharing her.
On Narkos, a colony of dangerous criminals,
Hannah is auctioned to four convicts.
Males who want to tear each other apart.
And they're not the only ones who want her.
Her survival depends on unifying her men.
She has no rights. No special skills.
That doesn't mean she's helpless.
Will they use her body? Yes
Will they try to control her? Yes
Will they bend her to their will? Definitely
Until she learns how to bend them to hers…
* * *
Auctioned to the Convicts is a steamy reverse harem romance with a enemies to lovers trope set in a galaxy where women are scarce and love even scarcer.  Hannah's story concludes with Protected by the Convicts.